Eagles 38, Niners 17
11/25/02
"The Return of the Whipmaster"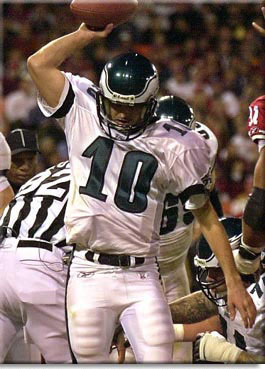 Koy started off on the wrong foot, tripping on the first play. But, he got up and moved on. The first drive was still a 3 and out but Koy was shaking some of that rust off at the time so it was understandable. But, once that rust was off...oh man, he was just whipping the Niners. He showed his amazing accuracy and touch passing by throwing some deep balls in the first quarter that reminded us all of a young Bart Starr. Koy would end up getting his first touchdown early in the second on a beautiful wobbler to Todd Pinkston. The Niners defense was pissing their pants once they realized that they were up against a true star QB, not just some chump backup. And just to embarass the Niners furthur, Koy brought out his signature whip-cracking dance.

But Koy wasn't done. Towards the end of the second, with the Birds up 14-7, Koy hit Freeman in stride with a pass so powerful that he sent him tumbling backwards into the endzone. So at halftime the Birds were up 21-7 and everyone in the world was dialing up their friends and telling them about the greatest quarterback in history, Koy Detmer. Everyone in the world doubted him and by halftime they all realized that they were never so wrong in their lives, this kid can play.

Then in the 3rd, all the Koy doubters were thinking "Well the kid can throw and stuff but he can't run the ball, he stinks", so he gave his signature grin and ran in a 1-yard TD to shut up any Koy doubter in the world. He was on top of the world, everything was perfect, he was living his dream on Monday night. And he was about to lead the Eagles to another TD when he took an awkward fall that made the world cringe, he flailed in pain as he hit the ground. He had dislocated his elbow but nobody knew what was wrong at the time, it looked really bad. He was loaded onto a cart and then a crowd of Eagles and Niners players surrounded him wishing him well as he drove off on that cart with tears in his eyes. It was a great scene from both teams. Then some bum took over for Detmer and threw a touchdown or something but who cares about that.